Help! What is a biography essay? I don't know how to write a biography paper! Don't worry about it; we are here to help. We know that the biography essay can be a bit tricky to write. Most students panic when they realize they don't have enough time to complete the essay or when they hit a writer's block. The good news is that we have included all the necessary information about the bibliography in this blog post – as well as a great guide to help you write it.
You'll learn what this paper is and how it is structured. We'll also show you how to write biographical essay papers correctly. Finally, the complete sample written by our experts and the list of tips, tricks and advice will help you do an even better job. You'll probably get some bonus points too. Ready? Let's get started!
First, What Is A Biographical Essay?
Let's start with the beginning. What is a biographical essay?
A biographical essay is a type of academic paper that tells the story of a person's life, usually focusing on their achievements, experiences, and impact on the world. The purpose of a biographical essay is to provide an in-depth and accurate portrayal of the subject's life while highlighting key events and significant moments that shaped their character and legacy.
A biographical essay typically follows a chronological structure, beginning with the person's early life and progressing through their major accomplishments, challenges and significant events. You may also include some information about the subject's family, education, career, relationships, and personal values.
To write a great biographical essay, you need to conduct extensive research and gather accurate information about the person's life. You should be prepared to review historical documents, conduct interviews with people who knew the person and consult several other reliable sources. You must then synthesize the information and create a compelling and engaging narrative that covers the subject's life and accomplishments in great depth.
What Is Included In A Biography?
The first step is deciding what to put in biography. There is no set list of chapters that need to be included. A biography is not a research paper, thesis or dissertation. However, there are some common elements of a biography that you should consider adding to your paper (some, like the introduction and conclusion, are mandatory):
Introduction. The introduction provides an overview of the person's life, including their name, occupation and significance.
Background information. This chapter provides context and background information about the person's life, including their upbringing, family and education.
Major life events. The essay should cover the major life events of the person, such as their accomplishments, challenges and contributions to their field or society.
Personal qualities. It is important to include information about the person's personality traits, values and beliefs. Bring the character to life using a carefully-crafted narrative.
Impact and legacy. The bibliography essay should also cover the person's impact and legacy, both during their lifetime and after their death.
Death. If the subject is deceased, you can often write a short paragraph about the circumstances surrounding their death.
Conclusion. The conclusion summarizes the person's life and impact, and provides final thoughts on their significance and legacy.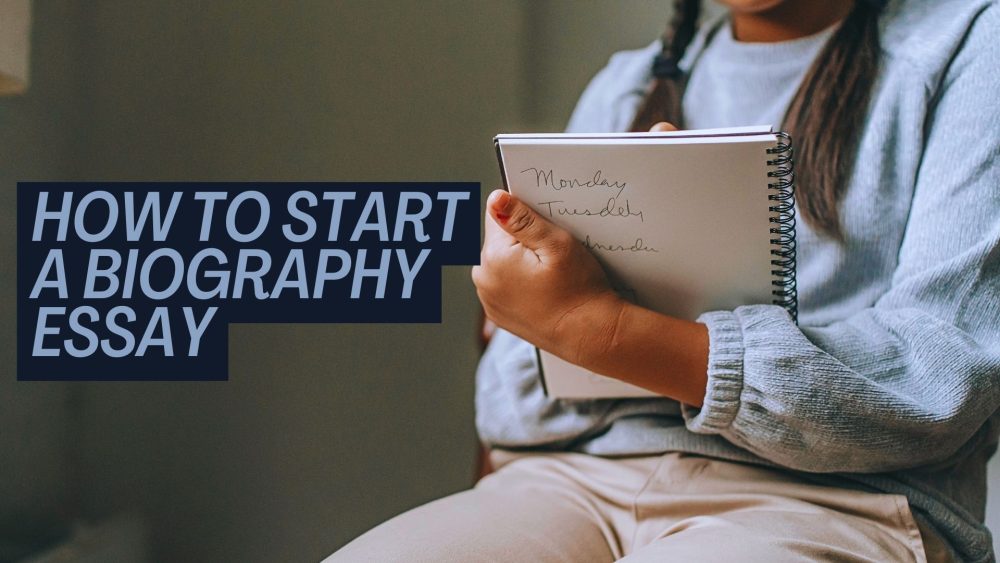 Learn How To Start A Biography Essay Quickly
Don't know how to start a biography essay? The introduction of a biography essay is a very important part of the essay as it sets the tone and captures the reader's attention. Here are some tips that should help you start the biography paper correctly:
The first one or two sentences should be attention-grabbing and captivating. Write a surprising fact, a quote from your subject or an interesting anecdote.
After you've hooked the reader, provide some background information on your subject. This can include their name, their occupation or profession, and their significance in their field or in history.
Now it's time to briefly outline your subject's life. You don't need to go into great detail at this point; just give the reader an overview of who your subject is and what they are known for.
Finally, end your introduction with a thesis statement that outlines the main argument of your essay. This will give the reader an idea of what to expect from the rest of the paper.
Make your introduction concise and organize it in a logical manner, using short paragraphs if necessary. It's the very first thing your readers see, aside from the title of the paper.
The Complete Guide To Writing A Biography Paper
Now that you know the features of a biography and how to start the essay, it's time to get down to business. We'll show you how to write biography essay papers quickly by following a simple step-by-step guide. After you read our guide, you'll realize that biography writing is not as difficult as it sounds:
Choose a great topic. Select a person that you find interesting and who has left a significant legacy on humanity. Make sure you have enough primary and secondary sources available to conduct thorough research.
Conduct extensive research. Use a variety of primary and secondary sources, including books, articles, interviews, photos, videos, and other archival material to gather information about the person's life and work. Take careful notes and write down the source of each piece of information.
Organize your notes. Organize your notes into categories or themes to make it easier to catch subtle patterns and connections. Create an outline of the paper to organize your thoughts. The outline also ensures that your paper flows logically.
Write the introduction. Begin with an opening sentence that captures the reader's attention (the hook) and introduces the subject. Provide some background information about the person and their significance. At the end of the intro, write your thesis statement.
Write the body paragraphs. Write the main body of the paper, focusing on the person's life and work. Each paragraph should discuss a single important idea or fact. Use primary sources whenever possible to provide a detailed and accurate account of the person's achievements and experiences. Include both personal and professional information to provide a comprehensive view of the person's life.
Write a short critical analysis. It's often a good idea to include your own critical analysis of the person's impact and contributions to society. Discuss their strengths and weaknesses and evaluate their legacy.
Write the conclusion. Summarize the key points of the paper and provide some final thoughts on why the subject is important and on why you've chosen the topic.
Write the References section. It's very important to use proper citation styles (APA, MLA, Chicago, Turabian, etc.) to give credit where credit is due.
Edit and proofread your work. Read the paper carefully to ensure that it is free of errors and flows smoothly. Make any necessary edits and corrections. It's a good practice to do this twice.
A Sample Biography For Your Consideration
We know you're probably looking for a biography example that you can use as a template for your next paper. This is why our helpful experts have written a sample biography for you, which you can get in touch with us right now to receive! If you are interested in our services, we are always happy to provide great biography examples that are professional writers can type up and research vigorously.
Biography Tips, Tricks And Advice
It's time for some tips, tricks and advice on how to get the biography written perfectly. Remember that you also need to follow every guideline set forth by your teacher. Here are some that should be a great biography essay assignment help:
Always choose a subject that that you feel passionate about to make the research and writing process more enjoyable.
Examine the ways in which significant events served as pivotal moments in both the life and works of the individual.
Use a clear and concise writing style that is easy to read and understand. Avoid using overly complex language or technical jargon that might confuse the reader. The simpler the better.
Include both personal and professional information about the subject. This will help the reader understand the person on a deeper level and appreciate their accomplishments more.
While it's important to present the subject in a positive light, it's also important to be objective and avoid bias. Present the facts in an impartial way and let the reader draw his own conclusions.
Don't forget to edit and proofread your essay carefully to ensure that it is free of errors and that it flows smoothly. It's a good idea to have someone else read your essay to provide feedback and catch any mistakes you might have missed.
Get Help With Your Biography Assignment
Do you need a bit of help with your biography assignment? Maybe you need somebody with more experience than you to make some tweaks to the structure of your paper. Or perhaps you need a great outline to get you started. Our writers, editors and proofreaders can get it done, and offer top notch college homework help. Here, you can get biography help in a matter of minutes, even in the middle of the night. Our customer support department is online 24/7 to help you find an expert to help with your assignment.
Our creative ENL writers can finish a unique biography essay in as little as 3 hours. We are a top tier provider of academic writing services that has been helping students get an A+ on their every assignment for more than 10 years. Our experts can help high school, college and university students with any class, any course and any paper.
Need a bio example you can use in your own project? Need some more tips on how to do a great job on your biography paper? Or perhaps you don't really know how to conclude a biography. Just reach out to us and get a custom written essay or research paper tonight!
FAQ
What are the 5 elements of a biography?
As with any piece of writing about a person, a biography should be accurate about the person you are writing about. Five elements of a biography could be: the name of the person, his or her achievements, relationship with family, views and life outlook, and important life events.
What does a good biography include?
A good biography will go in depth about a person's life. It will include the early life of the subject, their pathway in life and what they have achieved. A good biography will also be interesting to read, and will place the story of the subject in today's context, giving it the importance needed.
What is an example of a popular biography?
Some examples of popular biographies include: Alexander Hamilton by Ron Chernow, Churchill: A Life by Martin Gilbert, Steve Jobs by Walter Isaacson, and Frederick Douglass: Prophet of Freedom by David W. Blight.