Accusations of plagiarism are serious. They affect your grades and in extreme cases, may affect your degree or jeopardize your career subsequently. At Assignmentgeek we understand that academic writing is a tedious process, especially when you have a busy curriculum and are juggling other commitments as well. However, once you have put in hours of work into a paper, the last thing you want is to make a mistake and be falsely accused of plagiarism.
Are you wondering how to deal with the accusation of plagiarism when you did not do anything? Are you confused about what to do if a teacher accuses you of cheating?
Well, do not worry. Here are some tips on how to prove you didn't plagiarize and that you have worked on your paper honestly. Follow these to find out how to get out of plagiarism related problems.
How Do College Professors Check for Plagiarism?
To understand why you have been accused of plagiarism, you must understand how professors check for plagiarism using online plagiarism checkers. These tools use several upgraded algorithms that are difficult to trick. They provide a percentage of plagiarized content and even highlight the sources from where the information was taken.
Professors also take note of your writing style, the use of language, and your written expression to detect plagiarism. If the quality of work you submitted is not in line with your usual writing style, professors immediately suspect plagiarism.
When a student complains that the professor accused me of plagiarism, chances are that the professor has good reason to believe so.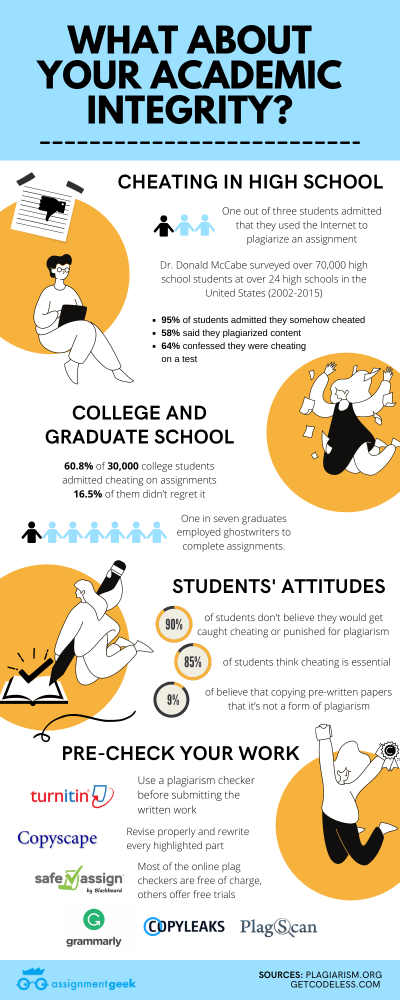 Turnitin Says I Plagiarized but I Didn't
Turnitin is the most common plagiarism checker used in colleges and universities. However, it has been found to make mistakes and be inaccurate on several occasions. A study conducted by Texas Tech showed that Turnitin tends to flag more papers as plagiarised. Out of 400 papers reviewed on Turnitin and a similar application called Safe Assign, the former showed 46 papers with plagiarized material while SafeAssign only identified 18.
Turnitin compares your content with its existing database. Even if a student has submitted a draft of an essay or any other previous work on Turnitin, it increases the chances of showing similarities.
If you are wondering how to get out of plagiarism or what to do if your teacher thinks you plagiarized because of a Turnitin report, it is important to speak to your professor and insist on refining the similarity report to exclude certain resources and quotes. This ensures that the name of the student, topic, and other small but mandatory phrases used by you do not get reflected.
Additionally, if you have submitted a draft of the paper earlier or have used a source that your professor has approved of, you can also choose to exclude those portions while checking for similarity.
How to Prove You Didn't Plagiarize
If you did not plagiarize but are unsure of what to do if your teacher thinks you plagiarised, try out these tips to prove them wrong:
The first thing to do is to vehemently, yet politely, deny the accusation.
Speak to your teacher or send them a detailed email. Most students are unaware of what to say in their defence or how to email a professor when caught plagiarizing. When sending an email, attach your list of sources and the rough draft. Evidence via email or while talking always aids reconsideration.
Collect all the drafts or outlines that you had prepared for your paper. This will show your professor that you have put in all the hard work to write your paper.
When you are falsely accused of plagiarism, demand an oral defense. This means you can give your professor an oral presentation of your work to exhibit your knowledge of it and to prove you did not just copy it.
Suggest using another online plagiarism checkers. Options like Grammarly, SafeAssign or CopyScape will give you the benefit of doubt even when common choices like Turnitin fail you.
What to Say When You Get Caught Plagiarizing
There are chances that plagiarism is unintentional and yet genuine similarities are found in your work. If you are wondering what to say when you get caught plagiarizing, know that it is best to let your professor be aware of the specific portion where you suspect possible plagiarism.
Share your sources and explain your mistake. Cite your previous track record to convince your teacher that you have not copied your work. In a worst-case scenario, request a rewrite to rectify the errors and submit a good paper.
We often get requests asking "I got caught plagiarizing in college what should I do?" or "Help! my teacher accused me of plagiarism.". Well, we believe that mistakes happen, especially if you are hard-pressed for time and multi-tasking. It is better to take professional writing help than submit something that is plagiarized. If you need writing help for genuine and 100% plagiarism-free content, feel free to get in touch with us at Assignmentgeek. Our team of experienced writers will help create a well-researched paper, written to match your previous style, and suited to your current level of education. Go ahead and give us a call. We will be happy to assist.
No time to deal with upcoming assignment? Don't worry – our geeks can help! Enter promo "mygeek20" and get a 20% discount off your next writing assignment!