Welcome to our blog, where we embark on a journey to master the art of writing profiles essays. Whether you're a high school or college student, understanding the critical components of a profile essay is essential for academic success. In this comprehensive guide, we will delve into the definition of a profile essay and provide practical tips, example of a profile essay, and expert advice to help you excel in this form of writing.
A profile essay is a captivating narrative that enables students to explore the lives and experiences of individuals. Through vivid descriptions and engaging storytelling, these essays offer readers a glimpse into the unique qualities and perspectives of the profiled subjects. By mastering the fundamentals of this writing style, you can effectively communicate your observations and insights, creating compelling and informative profiles.
In our blog, we will discuss the essential elements of a profile essay and emphasize the importance of high-quality writing and the benefits of expert guidance. Whether you're a student aiming to improve your writing skills or a teacher seeking to enhance your students' abilities, this guide is designed to provide you with the necessary tools and techniques to create exceptional profiles.
Join us on this enriching journey, where we share valuable knowledge, practical profile essay examples, and insider tips, empowering you to produce outstanding profile essays. Let's unlock the secrets of this unique form of writing and achieve fast, awesome results together.
What Is A Profile Essay?
A profile essay is not just a collection of facts and figures; it is a powerful literary piece that delves deep into the essence of a person, place, or event. This form of writing goes beyond surface-level descriptions to create a vivid and engaging portrayal that captivates readers emotionally.
When crafting a profile essay outline, the writer aims to explore a specific individual's life, personality, experiences, achievements, or unique qualities of a place or event. It seeks to paint a comprehensive picture, offering readers a window into the subject's world and allowing them to connect with it on a deeper level.
A well-written profile essay immerses the reader in the subject's experiences, thoughts, and emotions by employing descriptive language, storytelling techniques, and insightful observations. It evokes empathy and understanding, enabling readers to forge a connection and gain a deeper appreciation for the person, place, or event being portrayed.
In summary, a profile essay is a literary work that aims to go beyond superficial details and statistics. It is a means of conveying the essence of a subject through engaging storytelling, providing readers with a rich and immersive experience that leaves a lasting impact.
How To Start A Profile Essay
The beginning of a profile essay is vital in capturing the reader's attention and setting the tone for the rest of the piece. It requires careful consideration and strategic planning to ensure a strong start. Here are a few practical ways how to write a good profile essay:
Choose an Intriguing Subject:
The first step in starting a profile essay is selecting a subject that intrigues you and has a compelling story. Consider individuals, places, or events that pique your interest and evoke curiosity. This will make the writing process more enjoyable and help you engage your readers from the beginning.

Look for unique qualities: Seek out subjects with unique backgrounds, experiences, or achievements. These aspects can add depth and intrigue to your profile essay.
Consider relevance: Choose a subject relevant to your intended audience or the purpose of the assignment. This will help create a stronger connection and interest among your readers.

Conduct Thorough Research:
Once you have chosen your subject, conduct thorough research to gather as much information as possible. This step is essential to ensure your profile essay is detailed, accurate, and well-informed. Here are some key research strategies to employ:

Interview your subject: Reach out to the individual you are profiling and request an interview. Prepare a thoughtful question list about their life, experiences, and perspectives. These interviews will provide invaluable insights and personal anecdotes that can enhance the depth of your essay.
Read articles and books: Explore articles, books, and other publications related to your subject. This will provide a broader context and enable you to include relevant background information in your profile essay.
Explore online sources: Utilize reputable online sources such as websites, blogs, and academic databases to gather additional information and perspectives on your subject. Be critical of your authorities and ensure they are credible and reliable.

Craft a Strong Thesis Statement:
A well-crafted thesis statement is crucial for guiding your profile essay and providing a clear direction for your readers. It should concisely state the purpose of your essay and highlight the main aspects you will be exploring. Consider the following when formulating your thesis statement:

Be concise and specific: State your main argument or the central theme of your profile essay clearly and concisely.
Make it captivating: Use language that captures the reader's attention and creates intrigue. A compelling thesis statement will generate interest and encourage readers to continue reading.
Provide a roadmap: Your thesis statement should act as a roadmap for your essay, indicating the main points or areas of focus you will cover. This helps readers understand the structure and flow of your essay.
Starting a profile essay requires careful consideration of the subject, thorough research, and a well-crafted thesis statement. Choosing an intriguing topic, conducting a comprehensive analysis, and formulating a solid thesis statement can captivate your readers and set the stage for a compelling and informative profile essay. Remember, the start of your essay sets the tone for the entire piece, so invest time and effort into crafting a high quality and strong opening that engages and intrigues your readers.
Profile Essay Structure Guides
Writing a profile essay requires a structured approach combining storytelling and factual information. Follow these steps to create a well-crafted profile essay:
Introduction: Begin your essay with a compelling opening sentence that hooks the reader. Provide some background information about the subject and introduce the main thesis statement.
Body Paragraphs: Divide your essay into multiple paragraphs, each focusing on a specific aspect or theme related to the topic. Use a mix of narrative storytelling and factual information to engage the reader. Include anecdotes, quotes, and descriptions to bring your subject to life.
Organization and Flow: Ensure a logical progression from one paragraph to another. Use transitional phrases to maintain the coherence of your essay. Consider arranging your sections thematically or chronologically, depending on what suits your subject best.
Descriptive Language: Incorporate vivid and descriptive language to create a sensory experience for the reader. Use specific details and imagery to make your subject come alive.
Conclusion: Summarize the main points discussed in your essay and leave the reader with a lasting impression. Reflect on the significance of your topic and its impact on the reader.
Key Considerations For Writing Engaging Profile Essays
A profile essay offers a comprehensive portrayal of a person or place, providing readers with a detailed understanding of the subject. Whether it's about a place or a person, crafting an engaging profile essay requires careful planning and effective storytelling. Here are some key steps to consider:
How to Write a Profile Essay on a Place:
Choose an intriguing place: Select a location that is unique and holds significance for the readers.
Observe and research: Immerse yourself in the place, exploring its history, culture, and physical aspects.
Structure your essay: Begin with an engaging introduction, describe the place vividly, and provide personal insights.
Incorporate sensory details: Utilize descriptive language to appeal to the readers' senses.
Conclude with a reflection: Share your overall impression and highlight the significance of the place.
How to Write a Profile Essay on a Person:
Select a captivating individual: Find someone with an interesting background, achievements, or experiences.
Conduct interviews: Engage in in-depth conversations to gather firsthand information about the person.
Organize your essay: Begin with an attention-grabbing introduction, present the person's background and accomplishments, and delve into their personality traits and influences.
Use anecdotes and examples: Illustrate the person's characteristics through real-life stories and specific instances.
Wrap up with a reflection: Offer your personal insights, reflect on the person's impact, and conclude with a memorable ending.
Remember, in both types of profile essays, it is crucial to maintain a balanced blend of factual information and compelling storytelling to engage readers and leave a lasting impression.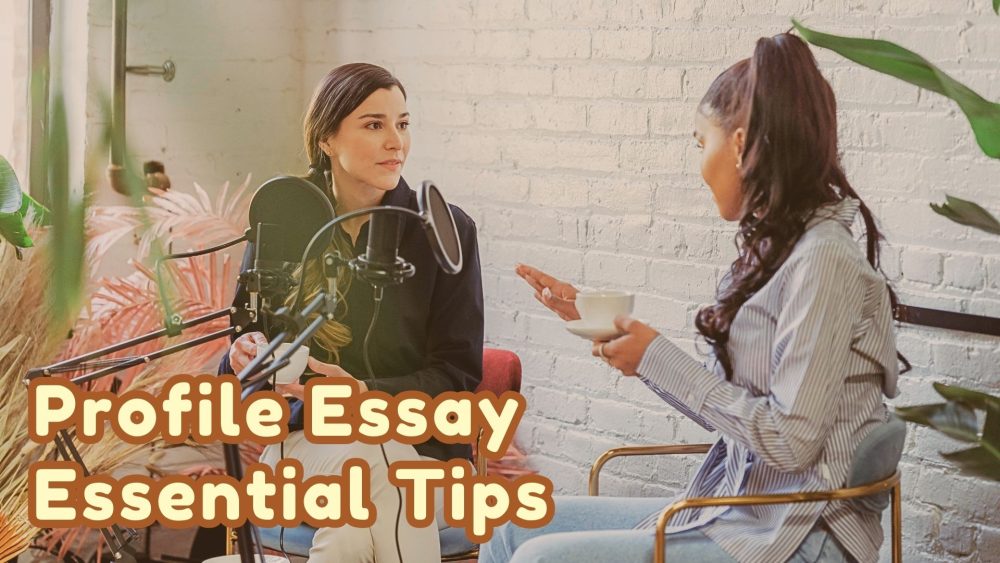 Crafting An Outstanding Profile Essay: Essential Tips
When writing a profile essay, it's essential to remember key elements that will enhance the quality of your work. Here are some essential tips to help you craft an outstanding profile essay:
Choose an Engaging Format: While there is no strict format for a profile essay, you can structure it to suit your subject and the narrative you want to create. You can opt for a chronological structure, a thematic approach, or a combination of both.
Conduct Thorough Interviews: Interviews are crucial in gathering firsthand information about your subject. Prepare a list of relevant questions and conduct interviews with the subject and individuals associated with them. These interviews will enrich your profile essay with unique insights and personal anecdotes.
Focus on Descriptive Details: Pay attention to descriptive details to bring your subject to life. Use sensory language to create a vivid picture in the reader's mind. Describe the subject's appearance, gestures, and mannerisms. Include details about the environment, sounds, and smells to transport the reader to the scene.
Utilize Direct Quotes: Direct quotes from your subject and others you interview add authenticity and credibility to your profile essay. Use quotes to highlight important points or capture the subject's voice and perspective.
Show, Don't Tell: Rather than simply stating facts, show the reader the subject's personality, values, and experiences through storytelling. Engage the reader's emotions by narrating impactful moments or sharing significant events that shaped the subject's life.
Revise and Edit: Once you have completed your profile essay's first draft, revise and edit it. Check for clarity, coherence, and grammar errors. Trim unnecessary information and ensure a smooth flow of ideas. Consider seeking feedback from peers or instructors to gain valuable insights.
Profile Essays In Academic Settings
Profile essays are commonly assigned in various academic settings, including high school, college, and university. These assignments allow students to develop their research, writing, and storytelling skills while exploring diverse subjects and honing their analytical thinking.
Following Guidelines:
When working on a profile essay for school or college, it's crucial to follow the guidelines provided by your instructor. This ensures that you stay on track and meet the assignment requirements. Consider the following points:
Pay attention to specific requirements: Your instructor may provide instructions regarding length, formatting, citation style, and other essential details. Make sure to adhere to these guidelines to avoid any penalties.
Understand the objectives: Familiarize yourself with the purposes of the assignment. This will help you shape your essay and focus on the key aspects your instructor wants you to explore.
Align with learning outcomes: Consider how the profile essay fits into the broader learning outcomes of the course. This will enable you to approach the assignment with a clear understanding of its purpose and relevance.
Seeking Assistance:
If you struggle with the assignment or need extra support, online essay assignment help and custom writing services are available. These services offer expert guidance and assistance, ensuring you receive high-quality, well-crafted profile essays that meet your academic requirements. Here are some key points to consider:
Online homework helpers: These platforms connect you with knowledgeable tutors who can guide and answer your questions about profile essay writing. They can offer valuable insights and help you overcome challenges you may encounter.
Custom writing services: If you feel overwhelmed or lack time to complete the assignment, custom writing services can be a viable option. These services employ professional writers who can create custom profile essays tailored to your needs and requirements. However, it's essential to choose a reputable and trustworthy service to ensure the quality and originality of the work.
Profile essays in academic settings offer students a valuable opportunity to develop their research, writing, and storytelling skills. By following the guidelines provided by your instructor and seeking assistance when needed, you can ensure that your profile essays meet the objectives of the assignment and align with the course's learning outcomes. Remember, practice and persistence are crucial to mastering the art of writing compelling and informative profile essays.
Get Profile Essay Writing Help Today!
Mastering the art of writing a profile essay requires a combination of skill, guidance, and support. By following the guidelines and tips provided by experts, you can create captivating profiles that engage and resonate with your readers. Along the way, it's essential to seek assistance when needed, and fortunately, there are affordable options available that provide class-leading customer support.
When embarking on the journey of writing a profile essay, remember to choose an intriguing subject and conduct thorough research to ensure the accuracy and depth of your piece. Craft a strong thesis statement that serves as a roadmap for your essay, guiding your readers through the main aspects you'll be exploring.
In the process, it's reassuring to know that expert guidance and support are accessible. Whether you require assistance structuring your essay, some college assignment help, or understanding the nuances of profile essay writing, affordable online platforms provide the expertise you need. These platforms offer friendly customer support to address your queries and provide valuable insights, ensuring you receive the guidance necessary to excel in your writing endeavors.
By availing yourself of these resources, you can enhance your profile essay writing skills, boost your confidence, and achieve outstanding results. So, embrace the art of writing profiles backed by expert guidance, affordable options, class-leading support, and friendly assistance. Let your words paint vivid portraits and create lasting connections with your readers through the power of the profile essay.
FAQ
What is a profile essay, and what is its purpose?
A profile essay is a type of academic or journalistic writing that aims to provide a detailed description and analysis of a particular person, place, event, or organization. Its purpose is to present a comprehensive and engaging portrayal of the subject, highlighting its unique qualities, experiences, and significance.
How do I choose a suitable subject for my profile essay?
When selecting a subject for your profile essay, consider individuals, places, or events that possess distinct characteristics, have a compelling story, or hold relevance in a specific context. It could be a notable figure in your community, a memorable travel destination, or an event with cultural significance. The key is to choose a subject that allows for rich exploration and offers an opportunity to captivate your readers.
What are the essential elements to include in a profile essay?
A profile essay typically includes several key elements to portray the subject comprehensively. These elements may include a vivid and engaging introduction, background information, descriptive details, anecdotes, quotes, and personal observations. It is important to capture the subject's personality, experiences, and significance through a well-structured narrative that keeps the reader engaged.
How can I ensure the accuracy and credibility of the information in my profile essay?
To maintain accuracy and credibility in your profile essay, conducting thorough research and gathering information from reliable sources is crucial. This can involve interviewing the subject, conducting background research, and seeking multiple perspectives. Always verify the information you gather and cross-reference it with trustworthy sources to ensure the accuracy of your content. Remember to attribute any quotes or specific details to their respective sources.