When it comes to academic writing, there are strict regulations from science publications to college essays. Most American colleges use three common citations styles known as APA, Chicago, and MLA. These styles prevent plagiarism, promote proper citations, and create a simple paper structure system.
However, APA and MLA formats are more common, and these styles are complicated for most students. Both APA and MLA have some similarities and differences. Knowing the difference between MLA and APA will help you to pick the right one for your assignment. This article also contains MLA vs. APA examples, and APA/MLA guidelines.
MLA vs APA: Major Differences
The main differences between MLA and APA formats are the in-text citations and bibliographic citations. There are some other minor differences and the table below will highlight them. The table contains a side-by-side comparison of both APA and MLA styles.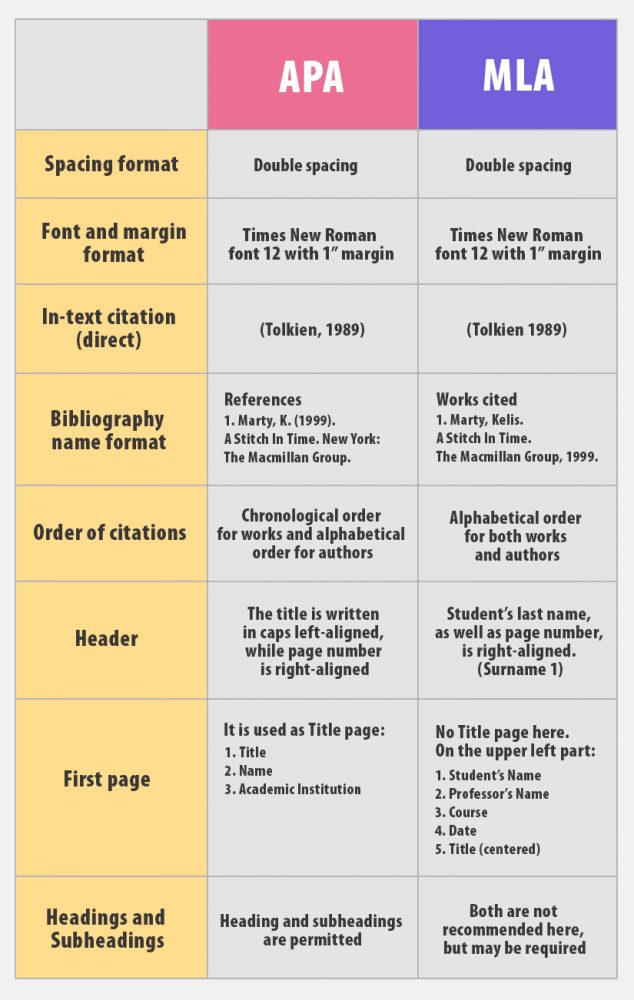 APA Citation Style Guidelines
APA or American Psychological Association style was originally used by authors in 1929 to submit papers for APA journal publications. APA is used in writing laboratory reports, scientific papers, and other papers in the field of education, psychology, and social sciences.
APA formatting allows for direct quotations, in-text citations, footnotes, as well as endnotes. An author can use the past tense of verbs to report as well.
APA format usually includes:
Reference authors in the bibliographic list. It starts with the last names, first initial, and the middle initial if any.
Bibliographic list of all references.
Periodicals are italicized in the bibliography
Book titles follow sentence-style capitalization
The in-text citation contains authors last name, page number, and year of publication.
Page numbers and shortened title of the publication
Double spaced lines
Double spaced footnotes and endnotes
MLA Format
MLA or Modern Language Association is used for literary research and academic papers in the field of humanities, as well as many other college homework assignments. This MLA citation has a format for manuscripts. Both MLA and APA are standard methods of reference formatting in college. MLA, however, focuses on citation of anthologies, books, literary works, multimedia, audio-visual, and the likes.
MLA uses more of present tense verbs.
This style includes:
List of works cited bibliographically
Centered titles below the top of the page
Alphabetical order by author and by work
Referenced authors organized by the last name, then first name, and middle initial.
Double spaced lines
In-text citations with the last name of author and page number
Footnotes for non-essential information
How To Cite: Examples Of Both Citation Styles
Below are some vivid examples that illustrate how to use APA and MLA for different purposes.
Book:
APA: Michael, D. (2018). Greek Theater. Paris: Macmillan Group

MLA: Michael, Duke. Greek Theater. Macmillan Group, 2018
Citing an article:
APA: Applebee, J., and Mark S. (2018). Benefits, Process and Downsides of Psychoanalytic Therapy. American Psychology, 34(2), 100 – 113. Doi: 11.12007/tox.30567

MLA: Applebee, James and Clarissa S. Mark. "Benefits, Process and Downsides of Psychoanalytic Therapy". American Psychology, vol 34, no 2, 7 Feb. 2018, pp. 100-113. University of Michigan Online Library, doi: 11.12007/tox.30567. Accessed 12 April 2019.
In-text citation:
APA:
Tolkien's first book (1989) was a masterpiece of excellent narration.
However, in a recent biography of McKellen, (2018) doctors discovered that the actor was dysfunctional.
Studies by Snow and Ingrid suggest that commitment and revision skills decline with word processing (2013, p.33)
MLA:
"Michaels briefly outlines his own version of the events that took place in the Renaissance era" (98).
One researcher has characterized the impact of computerization on human psychology (Gergen, "Social Saturation", 55).
Bibliography at the end of the text
Both citation styles contain the same elements. The main difference here is the sequence of words.
APA and MLA contain:
Author's name
Journal title
Title of book
Year of publication
Place of publication
Publisher
Pages (only applies to journal articles)
Volume number (only applies to journals)
Differences Between APA And MLA Bibliography
MLA:
Tolkien J.R.R. The Fellowship of the Ring, Ballantine Books, New York. Copyright 1954-1974
Rowling, J. K., author. Harry Potter And The Sorcerer's Stone. New York: Arthur A. Levine Books, 1998.
Robbins, Michael. "Paul Muldoon's Covert Operations." Modern Philology, vol. 109, no. 2, 2011, pp. 266-99. JSTOR, doi:10.1086/663233.
APA:
Summer, J. (1999). Deconstructing Colonialism: Discourse of the Empire, 1838-1899. Bloomington, IL: Illinois Wesleyan University Press.
Guttenberg, J. (1991). Astrology in the Seventeenth Century, 12, 221-242.
Alfred, T. (1974). Vanishing Forestry of South America. Washington, D.C.: National Geographic Society.
Citing Electronic Sources
Publication date must be included in these styles. The date of creation or modification of the electronic article as well as the date of access is included. Add the URLs with a demarcated angle bracket. The edition of the source is also a requirement.
MLA:
Bloomberg L.P. Stock Price graph for Samsung. 12/1/03 to 12/1/04. <http://www.bloomberg.com/stock-price-graph.html>

DeRuy, Emma. "The Intricate Lives of Babies." Very Well Family, 20 June 2017, <www.verywellfamily/education/>. Accessed 1 Oct. 2018.

Diabetes – Topic Overview." WebMD, 21 Dec 2016, <www.webmd.com/health-problems-and-treatments/tc/diabetes-topic-overview.html>

Angie Slays Academics." BBC News Education. 3 Jan. 2013. BBC. Web. 8 July 2014 < http://news.bbc.co.uk>
Gray, Meredith. "Paradise Lost."Time 12 Jun. 2001. 5 July. 2001.<http://www.pathfinder.com/>.
APA:
Satalkar, B. (2011, July 15). Water aerobics. Gotten from http://www.buzzle.com
Keegan, S. (1991). Normandy: The Incursion conceived, 1942-43. In Encyclopedia Britannica. URL http://normandy.eb.com/
Abel, K. (2013, June 30). The Negative effects of Twitter on communication. Social Media Today. Retrieved from http://www.socialmediatoday.com
Dice, R. (2012, June 11). Web Database course–Lesson 1. URL http://www.hotwired.com/
Do Colleges Use MLA Or APA?
Colleges allow students to use both MLA and APA formatting. However, this depends on the usage. Humanities students are often urged to use MLA citation style. Research and science fields are encouraged to use APA style. The reason for standardized MLA and APA reference is so researchers, professional peers, professors and academic readers can check citations and understand the syntax.
APA or MLA Format – Which Option Is Better?
The citation formats are both great options when it comes to academic writing. However, the best option for college depends largely on their use. For fictional literature which will be published in large volumes, the MLA style is recommended by most writing experts. The reason for this is in-text citations which refer to the information by mentioning the particular page. Since MLA is best suited for long articles, APA is better for short publications. Some publications that fall into this category include academic articles and scientific research which are published online without adding page numbering. The in-text citations are more appropriate as they help identify the work. They highlight the year for easy tracking of research.
MLA style of citation is made to be simple and concise. It also avoids any kind of visual aids like charts, graphs and figures. APA bibliography is a lot different as it highlights hypotheses and ideas even if it means using visual aids. Most times, APA reference have appendixes or additional pages at the end. This part usually contains more information in the form of charts and research questionnaires.
As you can see, APA vs. MLA citation styles usage depends on the subject. Both referencing styles have some similarities and differences. Studying each example above will give you a better idea of how to choose the best for your work.
Get Assignment Help Today
Still feeling confused? Well you are in luck, because we offer a homework help and assignment editing service. So if you have an essay already but don't know where to start with formatting, you can get in touch with us and our expert writers will do all that is needed to make your paper or essay perfect.